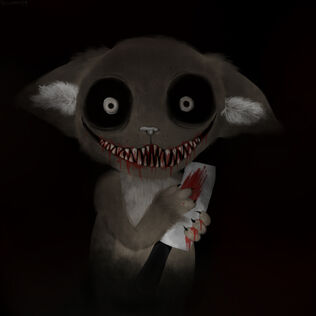 Bio
Mr. Widemouth is a mysterious creature that resembles a Furby. He is very mischievous and often tries to convince children to harm themselves by juggling knives or playing a game he calls "Suicide".
Powers/Weapons
Mr. Widemouth is an expert at using knives, and is an expert knife thrower.
Movelist
Special Moves
Knife Throw - Mr. Widemouth throws a knife at the opponent.
Down Ball - Mr. Widemouth rolls like a ball towards the opponent.
Bounce Attack - Mr. Widemouth does a bounce attack from the air to the ground, hitting the opponent on the head if on his way.
Upward Bounce Attack - Mr. Widemouth aims his Bounce Attack upward at the opponent if airborne.
Blade Swipe - Mr. Widemouth Swings his knife upward.
Blade Spin - Mr. Widemouth spins around with both knives out, knocking the opponent into the air upon connecting.
Throw - Mr. Widemouth climbs onto the opponent and scratches him/her several times before kicking him/her away.
Reverse Throw - Same as normal, except he climbs on his/her back.
Super Move
Knife Throwing Act - 

Mr. Widemouth throws a barrage of knives at the opponent. The number of knives thrown depends on how many hits your normal attacks landed on the opponent.
Creepy Finishers
Human Pincushion - 

Mr. Widemouth pulls out 4 knives and throws 3 at the opponent's body. He then throws the last one at the opponent's head, knocking him/her to the floor, dead.

Knife Kick - Mr. Widemouth throws some knives into the air and kicks them at the opponent.
Friendship
Mr. Widemouth juggles some knives.
Poses
Intro
Mr. Widemouth appears sharpening his knife on the ground before saying, "I have a new game he can play."
Win
Mr. Widemouth tosses his knife around.
Victory
Mr. Widemouth grabs the camera and holds to a knife while saying, "Hope you enjoyed my little game."
Win Quotes
"Your dead meat, flogface"
"Think I have rabies? let's find out"
Arcade Mode
Intro
Unfortunately for Mr. Widemouth, he was captured and taken to a science laboratory to be test on. He was about to escape and then got word about a god that was gathering people to fight and the winner would get their wish granted. Mr. WIdemouth then decided to create more "games" with children.
Ending
After defeating Mr. Creepypasta, Mr. Widemouth suddenly found out he had the power to clone himself. Soon, Pet Stores started selling new creatures called furbies… but later, a rise in child murders occurred. The most curious thing, these deaths were because children were playing with knives. The government is investing these current issues.
Notes
He uses a lot of Kano's moves from Mortal Kombat.
His Human Pincushion is based on one of The Joker's fatalities from Mortal Kombat vs DC Universe.
His victory pose and win quotes are borrowed from Rocket Raccon from Ultimate Marvel vs. Capcom 3.
Theme Song
Mr. Widemouth's Theme: Korn - Coming Undone